It isn't often, that I venture out on my own for an afternoon. I find it ironic, that I would choose Mother's Day to "take off" so to speak, when it's usually my children's activities that make up the majority of my free time. And rightly so, I might add. My daughters are and have always been the highlight of my life.
But lately, I've been considering the possibility that I might have interests of my own to explore as well.
So I allowed myself that privilege today and went to the pow wow on my own. It was very interesting, colorful and enlightening. I sat alone, enjoying the festivities and the traditional Native American dancing, ate lunch alone (no buffalo tacos this year, thank you... :o) ) and walked among the crowd of people, fighting the urge not to spend all my money!
I took lots of photos, and even though the sun was bright (I'm thankful for that) and I had to zoom in from afar to capture most of my images, I found a colorful few that I am happy with: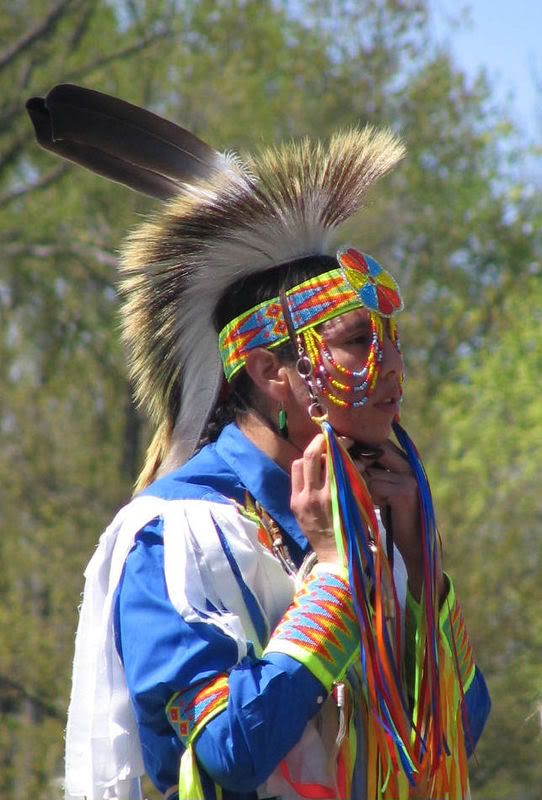 I do believe I'm going to try to do this sort of thing more often. "Get a life" as the kids would say. I not only enjoyed the pow wow, but also walked all around campus and down Main Street. I spent some time in the Dartmouth Bookstore and even struck up conversation with strangers! Somebody STOP ME! hehehe...
Our custodian at school is an avid outdoorsman and hiker. We've been talking, and I've decided that I shouldn't let my fear of being alone stop me from doing the things that I enjoy ~ even if it means I must enjoy them sans partner. He's given me a couple of books on area hikes and trails. I DO hope, that my girls will join me on these adventures, but if they decide they're not interested, I will not let that decision persuade me one way or the other. There are groups in the upper valley that take hiking trips as well, and I haven't ruled out that possibility either. I'd like to start fishing again, and someday, I might even buy myself a little fishing boat!
There are simpler things, of course, to do on my own... Go to a movie, visit a museum, see a play, etc... And of course, the anytime, anywhere activities that I enjoy, like drawing, painting and reading. The bottom line is, I need to start living my life again and stop letting my "aloneness" get the best of me. Don't get me wrong ~ I'm happier now than I was a year ago in many ways. But I've been letting the overall picture get me down.
It's time to snap out of it.
I hope everyone enjoyed a peaceful, relaxing Sunday!